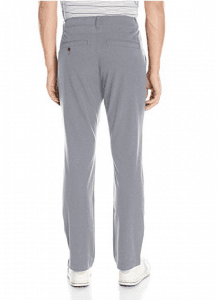 Under Armour have very high standards in making sports gear. That's why it's not that easy to beat them when it comes to quality of their golf pants. Let's take a look at why exactly these tapered pants are among the best currently available on the market.
These pants are made from polyester, which makes them both durable and lightweight. Everything we've seen while trying them out has led us to believe that they're a great choice for the golf course. They give a great feel and make the wearer look good as well.
But it gets better:
Thanks to breathable mesh lining, these pants are capable of wicking moisture away from the skin. They have five different pockets, which makes it a lot easier to carry stuff around while on the course. And their waistband serves its purpose.
Since some buyers have had issues with selecting the right size, make sure you check the size chart twice if needed. Take into account that these pants are a bit short in length.
Features
Made entirely from polyester
Mesh lining
Five pocket design
Stretch-engineered waistband
Features UA logo