You might not expect a Canadian company to make some of the best ukuleles on the market, but that's what you get when you shop Lohanu. Every aspect of the company is focused on a good customer experience, and even their entry-level instruments are crafted with care. The LU-C bundle linked to here is arguably the best single-purchase option for a complete beginner.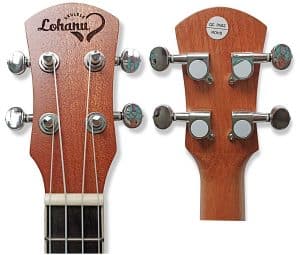 The LU-C uses a laminate of Sapele spruce and mahogany in the construction of the body. Sapele spruce is a common variant of the hardwood often used in acoustic guitar soundboards because it gives the front end of attacks a punchy definition that can really cut through an ensemble. It's a harder wood than mahogany, which gives this ukulele a slightly brighter sound than the other concert models on this list, though it's mostly only noticeable in the upper half of the range.
The brightness of the Sapele is also balanced out by the arched-back construction. This changes the way the soundwaves resonate inside the instrument's body and tends to darken the tone. The combination of materials and shape give you a sound that's crisp and articulate but not thin or abrasive. This is especially great if you want to do some fingerpicking as well as strumming.
The details are where you can really see the difference between the LU-C and other beginner models. For example, it comes with buttons pre-installed for either a neck or a shoulder strap, saving you a trip to the repair shop down the line (along with the $40-$50 in labor you'd have to pay to get it installed). Construction details like the angle of the neck and smoothing of the fret edges are also consistently on-point.
While the instrument itself is what's impressive, the accessory package is worth a mention, too. It comes with a digital tuner with an LCD display, by itself easily a $15 value. It also comes with a comfortable strap, a padded bag for storage and transportation, picks for playing, and an extra set of the Aquila Super Nylgut strings that come installed on the ukulele. You also get access to Lohanu's online video lessons so you don't have to figure it all out on your own.
Specs at a glance:
Weight: 1.2 pounds
Body/neck: Sapele/Mahogany
Fingerboard: Rosewood
Hardware: Chrome die-cast geared tuners
Included in the box: Gig bag-style case, strap, clip-on digital tuner (battery included), spare Aquila Nylgut strings, pick holder, two picks