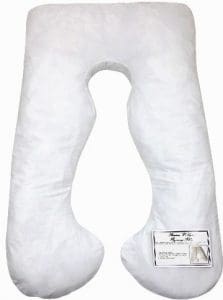 Another 'U' Shaped Pregnancy body pillow, this is a larger offering than most other pregnancy pillows available on our list.
Made out of polyester, this body pillow is a large, comfortable pillow. Much like other 'U' shaped body pillows, it has contoured legs allowing for a comfortable sleep. It provides support to the back, hips, neck, and head.
The body pillow has a removable zippered pillowcase, making it easier to clean. Being a polyester construction, however, in testing we found it to heat up a fair bit during sleep.
The pillow, however, is rather soft and comfortable and does keep its shape well. While it does have a larger surface area, we'd only wish it was a little bit thicker, just for extra comfort.
Specifications
Polyester construction
69 pounds
60 x 35 x 7 inches
Large surface area
Removable and washable pillowcase