TRU's Basic Kit offers more than the name suggests.
Its single action airbrush is very precise and allows you to do your entire face in less than two minutes. The compressor has three different pressure settings, which gives you more control over the process.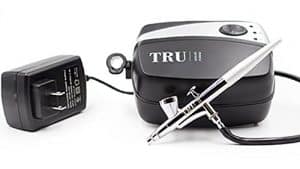 This kit includes one shade of blush and two shades of foundation. Developed by a pharmacist and made without using harmful ingredients, they're appropriate for use even on really sensitive skin.
And that's not all.
Since it has special soy proteins and is mineral based, this makeup lasts longer and is better at covering up imperfections.
The airbrush is really easy to clean and comes in a good-looking black travel bag.
This is not a perfect set, though.
Its main downsides are the compressor, which is not completely silent. Plus, the shades of makeup included don't work that well for everyone.
Features
Single action airbrush
Compressor with 3 pressure settings
2 shades of foundation
1 shade of blush
Mineral-based makeup
Free of harmful ingredients
Contains soy proteins
AC adapter
Travel bag