Whether your little golfer is 3-years old or just hit their teens, Tour Edge has just the thing for you. The HT Max-J Junior golf set is available in a wide variety of options and is one of the more affordable alternatives as well. If you're not sure how your child will take to golf… this is the one you want.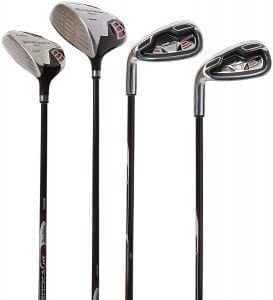 Tour Edge put together a great set of clubs that come in three sizes for three different age ranges. All use the same type of technology; the lengths are just different. This means you're 5-year old can use a  mini Max-J driver just like their older sibling, and sets can be passed down – a definite bonus if you have a large family.
All the shafts are graphite with a low kick-point while the fairway woods, oversized irons, and hybrid clubs are made from good old stainless steel. The fairway wood has a radiused sole while the hybrid clubs have a deep center of gravity. Despite their size and price, they are very accurate clubs with some practice.
The woods use titanium in the head and the driver clocks in at 350cc. We love that the Tour Edge HT Max-J set comes with a mallet putter as well, and the ability to purchase each club individually if you ever need a replacement.
If damage does occur…
You'll be thrilled to know these clubs come with a lifetime warranty. While we didn't pour over the fine details, it's safe to say you'll void it if your children decide to act out Star Wars with their putters. Regardless, it's rare to find clubs with over a 2-year warranty, especially in the "youth" category.
The clubs included depend on the set, and we're going to keep things fairly simple. The Small set is rated for children 3-5 and comes with three clubs including a fairway driver, 7-iron, and putter. The 5 to 7-year-old set replaces the fairway driver with a hybrid and adds a real driver to boot. You'll also get a 7-iron to go along with the 9-iron and putter.
Older children will receive all the aforementioned clubs and a sand wedge. It's obvious the company paid attention to the details across the HT Max-J range as you can see from the specifications chart below.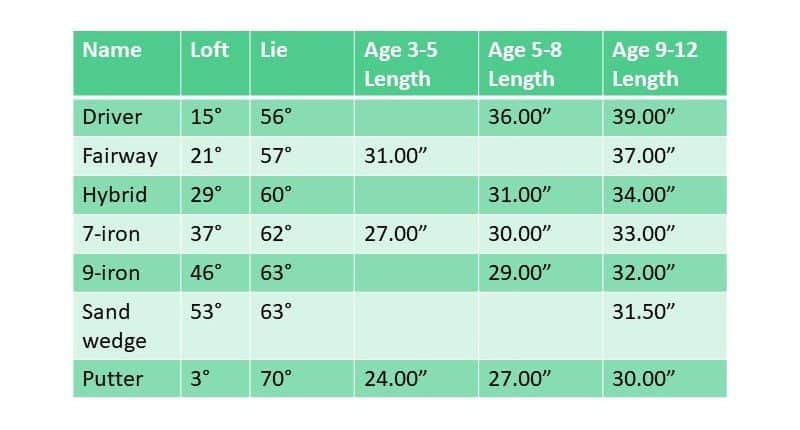 This set is available in red and made for both left and right-handed golfers looking to learn the game. There is also a pink set available, but the options are limited with only two sets for the 3-5 and 5-8 age ranges. Lefties are out as well with the pink set although girls and boys can use either due to the varying lengths.
Features
Multiple size options
Stand bag
Graphite shaft driver
Hybrid and fairway woods