The ToughBuilt C700 is a sturdy unit that supports up to 1300 lbs. of weight. This unit is very to set up, especially because it comes with a handy push button to quickly release the legs of the sawhorse.
Wait, there's more…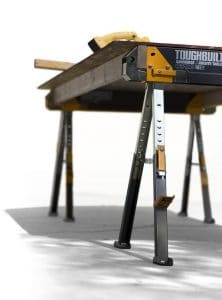 It's not surprising that this sawhorse is sturdy and durable. It's constructed of 100% high-grade steel.
The support arms of this product are also easily adjustable for different sizes of wood. We also found that the C700 can function as a very effective job site table as well.
This 23 lbs. unit comes with pivoting feet that are adjustable for any kind of surface. The feet also ensure the product doesn't slip, which greatly enhances its security.
Moreover, the unit easily fits 2x4s & 4x4s, which is something you don't find in most other ToughBuilt sawhorses.
Careful though…
After extensive research, we feel that this unit works better when used as a pair; the single unit has its limitations and fails to provide too many advantages. If paired up with another C700, on the other hand, this product provides an excellent workbench.
In this ToughBuilt model, you can adjust the height of the legs depending on your requirement, but we found that it can become quite tiresome to do that. Another problem a lot of customers faced was that the unit's feet often slipped if the weight was too much. This makes the product pretty dangerous to be around compared to competitor sawhorse models.
Features:
100% Steel construction
Supports weight of up to 1300 lbs.
Adjustable legs and support arms
Pivoting feet
Powder coating and zinc-plated surfaces