If you want a modern and efficient fireplace that adds warmth, romance, and mystery to any room without taking up too much space...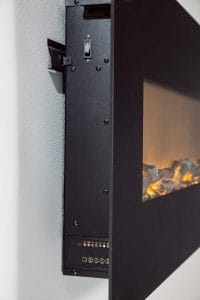 This. Is. It.
Beyond the contemporary black design with durable tempered glass, a combination of fake logs and crystals supports lifelike flames that are bound to impress anyone.
This Onyx Electric Fireplace uses a force fan to heat rooms of up to 400 square feet. It has five flame-brightness and two heat settings and can run without heating as well. You can control the settings with a remote control, and even program the unit to shut off automatically within a timeframe ranging between 30 minutes and 7.5 hours.
It's not just us.
Hundreds of buyers praise this wall-hanging electric fireplace, claiming to love everything about it, even the installation requirements. The unit is lightweight and easy to fix in place with drywall screws. Since it uses LED technology, there are no overheating risks and its energy consumption is low.
Features:       
Dimensions: 4 x 21.65 x 5.5 inches
Weight: 46 pounds
400 square meters heating capacity
2 heating levels
5 flame brightness setting
Auto shut-off timer 30 minutes – 7.5 hours
Forced fan heating
LED technology
Drywall screws wall-hanging system