If you're looking for something more modern looking that maintains simplicity this might be a great option.
Although minimalistic in design, this toilet also has some tricks up its sleeve.
See what's behind the scenes.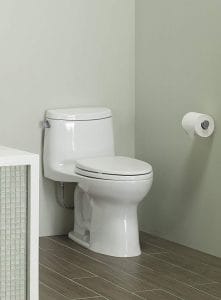 First, this toilet uses a new dual cyclone flushing style. This allows the Toto Ultramax to flush quietly yet powerfully without sacrificing efficiency.
It does this by distributing the way that water enters the toilet bowl. Having two cyclones means the water that's used hits the bowl harder and more effectively. The fact that the water is split between two falls means it doesn't create one giant rushing sound when flushed.
This toilet flushes at 1.28 gpf, so you'll be able to claim your high-efficiency toilet rebate.
One of our favorite design characteristics of this toilet is the bowls coating. The SanaGloss ion barrier coating allows substances to slide right off the interior of the bowl.
This means with every flush, the toilet self-cleans--a great practical effect.
You'll still need to get in there and give this one a deeper scrub every now and then, but you'll have a much easier time fighting stains with SanaGloss.
It also makes the whole process more hygenic.
It also has a tall seating, which adds comfort. It also has an elongated bowl on which most adults will find it easier to balance.
But, remember...
Most Kohler toilets run large, so you're definitely going to want to double check this one will fit in your bathroom space.
You'll need to buy a supply valve for this product, as well.
This toilet has a standard one-year limited manufacturer warranty.
Features
SanaGloss coating
Double cyclone
Elongated bowl