This is another solid option from Toto if you're looking for some of their exclusive features.
Like what?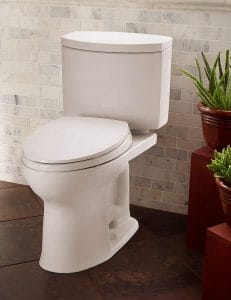 You can find Toto's SanaGloss coating on the inside of this toilet. This will aide in more complete flushes while also self-cleaning the toilet. This is a much-loved feature since it takes care of an entire chore for you without over engineering the product.
The dual cyclone flush is at play here, as well. You'll find that this toilet flushes well every time without being too loud.
You also won't see any increased water usage from such powerful flushes, since the technology also makes the toilet more efficient. You'll be able to claim tax rebates as this product flushes at 1.28 gpf.
This model also includes dual flushing, so you'll save water on liquid wastes.
This toilet additionally houses a computer generated trap-way. The structure and increased size allows solids and liquids to pass much more smoothly into the plumbing. This prevents clogging and promotes clean flushing.
This is a taller, porcelain toilet that will flush well and be quiet. It's ADA compliant, so most adults will have a very easy time sitting and rising.
Don't be fooled, though.
Although pictures show this product has a seat, there's no cover included with this purchase.
You should also know this product only has a one-year warranty. And there are already some reports of defects popping up after this coverage period has ended.
But this is still a great product as long as you understand what you're getting and what you do get is made correctly.
Also keep in mind this is a pressure flushing toilet. This means you can expect a little bit larger energy consumption. It will also be virtually clog free.
This would be a really good option for anyone who is buying for commercial or high-traffic use.
Features
SanaGloss
Dual cyclone flushing
Two flushing options
ADA compliant
1.28 gpf