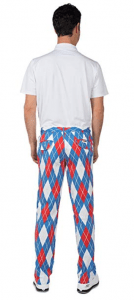 If you want your golf pants to be as original and funny as possible, Tipsy Elves is the brand for you. With their American Flag Pants, they inspire patriotic feelings in every golfer that wears them. But they don't disappoint when it comes to comfort and functionality either.
Cotton is what makes these pants comfortable, while elasticity is provided in just the right amount to allow for freedom of movement while you swing on the golf course. We've also found that these pants have an elastic waist that adds to the comfort. The American flag colors make them fun and original, which is a great addition for all the golf players who don't like to take themselves too seriously.
Of course:
These pants have some downsides. Well, at least one, that is. In our opinion, they could use a waistband that's a bit stiffer. Other than that, we can find no fault.
Features
Made from cotton
Added elasticity
Elastic waist
Come in American flag colors