With over 40 years of experience in creating quality shoes, Timberland is a brand that boasts wide recognition. Their products are at the same time comfortable and made to withstand a lot of damage. When it comes to work boots, this waterproof model is among the best, although it's advertised as hiking gear.
Our research has shown that these White Ledge Boots are better for working men than they are for hikers. Although they don't fair that well when it comes to really bad weather conditions, they're quite tough and completely waterproof. This is mostly due to full grain leather with an oiled leather finish. Also, their rubber outsoles feature Timberland's B.S.F.P.™ system – multidirectional lugs that make sure you always have enough traction.
But there's more: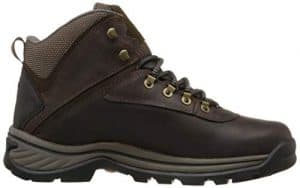 EVA footbeds and padded collars make wearing these boots as comfy as possible. We've found that the footbeds do a pretty good job at keeping your feet from sweating as well. Since they're removable, you can easily wash them whenever the need for it arises. And using the handy pull loop you'll find on the back of the shoe, you'll be able to put it on and kick it off with ease.
Of course:
We also need to tell you about the downsides of this model. Our research has showed that there are some issues with the sizing chart, since customers who order a wider boot often complain that it's too narrow. Also, these boots don't have any steel reinforcements and aren't as warm as some other models, making them less suitable for working men and winter conditions.
Features
Full grain leather and textile uppers
Oiled leather finish
Removable, perforated EVA footbeds
Rubber outsoles with B.S.F.P.™ system
Padded collar
Rear pull loop