When it comes to work boots, you'll hardly find more reliable footwear than the one made by Timberland. This is a brand that's at the same time widely recognized and capable of boasting high-quality products. Their Hyperion series excels in many different aspects.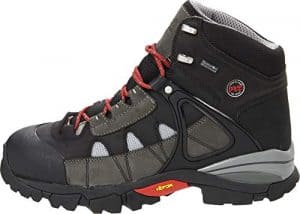 Quality leather uppers of these shoes are reinforced with a waterproof membrane, making them completely resistant to water. Thanks to Ever-Guard technology, they're resistant to abrasions as well, making them incredibly durable. Their Vibram outsoles are actually made from vulcanized rubber, the purpose of which is to make them slip-resistant. Reinforced with XL alloy, the toe parts make sure your feet stay safe even when there's danger of injury.
But guess what:
Thanks to molded EVA midsoles and padded collars, these work boots are comfortable as well. Timberland's Anti-Fatigue Technology improves shock absorption, which makes it easier to stand and walk around in these shoes, even when you have to wear them all day long. The interior is lined with antimicrobial mesh, a material that's breathable and great at fighting odors.
What's the bottom line?
Although they have plenty of great features, these work boots come with downsides as well. Our research has shown that although they provide good traction, the outsoles aren't as durable as other parts of the shoes. This might not be a big problem for most, but could be a deal-breaker for some. Also, we've found them to be a bit too heavy for wearing all day long, at least when it comes to comfort.
Features
Leather with waterproof membrane
Molded EVA midsoles
Vibram outsoles
XL alloy toe reinforcements
Ever-Guard heels
Anti-Fatigue Technology
Antimicrobial mesh lining
Padded collar