If you're looking for quality shoes, you can hardly go wrong with Timberland. Having been in the business for decades, they have the knowledge and the means to manufacture work boots that will actually be both tough and waterproof. These Industrial Boots are among their finest examples of what this type of footwear should be.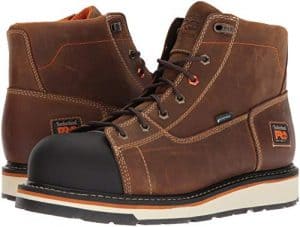 With their quality leather and textile uppers, these boots boast a high level of sturdiness which is so important to those who do physically challenging jobs. Since the leather is full grain and features a water-resistant membrane, you'll never get your feet wet while wearing them. Their rubber outsoles are made to provide you with traction, so you're never in danger of slipping no matter the terrain on which you work.
Here's the deal:
When it comes to comfort, these boots have plenty to offer, especially thanks to their EVA midsoles. While they provide both structure and padding, the steel shanks add extra support for your arches. To make them even better, the footbeds in these shoes are made from quality PU and designed to fight fatigue, so you feel more energetic while on the job. And the mesh lining is antimicrobial, which makes it capable of minimizing odors.
However:
There are some downsides to owning the Industrial Boots as well. Firstly, some customers believe they're too narrow, even when you order the wider fit. Secondly, we've found that the outsoles, although made from quality rubber, are quick to wear out. Also, they don't come with any reinforced parts, making them less suitable for more dangerous occupations.
Features
Leather and textile uppers
Full grain leather with water-resistant membrane
Antimicrobial mesh lining
EVA midsole
Rubber outsole
Steel shank
Anti-fatigue PU footbed