This toilet is going to be your best option for recreational vehicle bathrooms. It should be compatible with all RVs.
Does it work like a normal toilet?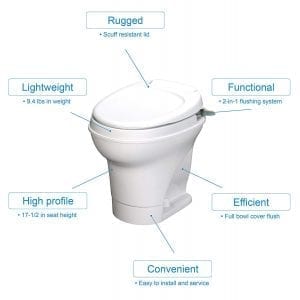 The Thetford Aqua-magic V toilet works a little differently than a traditional bathroom toilet. You find the flushing button on the back of the toilet.
Push down half-way to fill the bowl up with water. Then push it all the way to flush it. In testing this proved to work very well and was an effective, although inefficient, system.
There are some bonus features.
The lid is textured to increase water shedding and durability. If your RV is frequented by messy kids or outdoors-persons this could be a really important feature for you. This surface material will keep dirt and things from sticking to the toilet.
This toilet can also be fitted with a hand sprayer, which would increase the water efficiency of this toilet. You can purchase one of these here.
This could turn out to be an important feature. At home, water conservation is good for the environment. On the road, it becomes a necessity.
This bowl is also built to be comfortable. It sits a bit higher than the average RV toilet which will avoid that training-potty feeling we all get in RVs and airplanes.
This toilet is meant to be consumer-installed, which is always awesome. You'll be able to avoid professional fees with this product.
Overall?
If you're looking for an RV toilet, this is probably the one for you. It's a nice and inexpensive without sacrificing quality.
This is also a great option because it's durable against outside substances.
We highly recommend you spring for the hand sprayer, since the last thing you need is to run out of water while traveling.
This toilet has a one-year warranty for personal use and a ninety-day warranty for commercial use. Shipping isn't included.
Features
Texture lid
Hand sprayer ready.
Raised seating