You may not know the name Thermik, because the company is not as famous as the previous two on the list, but they definitely make high-quality ice chests.
What makes this one stand out?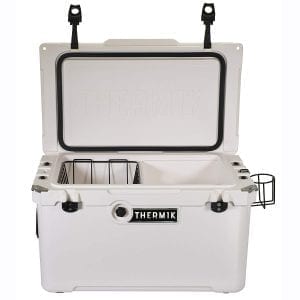 Among several features the Thermik High Performance 45 has to offer, we definitely have to start with the vacuum release valve.
Why is this important?
Well, as the ice inside the chest melts, it increases the volume. The vacuum thus created pulls the gasket, and it's very hard to open the lid afterwards.
But the vacuum release valve allows you to equalize the pressure inside it with the press of a button.
The lid will be free instantly, and you won't have to struggle with opening it.
But…that's not all.
Here come the latches.
Instead of the standard T-latches, the Thermik High Performance 45 has ring-lever latches. They are so easy to open--users love them.
Does it retain ice?
Absolutely, yes.
The Thermik High Performance 45 has 3-inch thick walls and a rotomolded build with a polyethylene body. This means there are no weak points whatsoever.
It will retain ice for five days, and longer (the gasket offers a strong squeeze).
So, you get all the standard things as you would in any other ice chest of its type.
But, listen to this.
Where this ice chest excels is the extra features. We've already mentioned the vacuum release valve.
Well guess what?
There's much more.
The Thermik High Performance 45 is ideal for going camping because it includes a dry goods basket (always a good thing to have), a drink holder, and a cutting board separator.
And if we add to this two locking tab bottle openers (on both corners) made of stainless steel, you really have everything you need for a great camping trip.
Anything else?
As a matter of fact, there is.
Many ice chests don't have a leash on the drain plug – the bane of many a buyer. However, the Thermik High Performance 45 actually has a leash, which is also made of stainless steel.
And not only that, but there's also a quick release drain, which can easily fit your standard garden hose – a perfect solution for fast draining.
We've contacted several users about this, and all of them are thrilled to have a drain plug leash and a quick release drain – they say it's an absolute must-have when it comes to a quality ice chest.
Anything bad?
Well, there are a couple of things people have complained about.
First, there's the color. The Thermik High Performance 45 currently comes in only one color – white.
The ice chest also isn't bear-proof certified, although the manufacturer is apparently working on it.
And last, but not least, there are the handles. They are probably the biggest drawback, because many customers have complained about them.
The handles are made of marine nylon, but don't seem reliable. In fact, some users have said the handles look like they will snap any time soon.
Nevertheless…
If we disregard the problematic handles, it's safe to say the Thermik High Performance 45 is a great ice chest, one of the best around. It's reliable, has a bunch of great extra features and a 5-year limited warranty.
Features
27.5 x 17.5 x 17 inches; 29.9 pounds
rotomolded construction
3-inch urethane insulation
freezer-grade lid
ring-lever latches
vacuum release valve
quick release drain
board separator
dry goods basket
drink holder
stainless steel bottle opener
stainless steel drain plug leash