When it comes to stovetop espresso makers, the name Bialetti speaks for itself.
This is one of the best-known brands in the industry, which is why so many people opt for the original Bialetti Moka Express.
The design speaks for itself…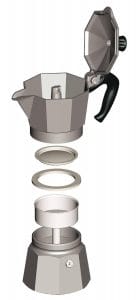 Its unique octagonal shape was introduced way back in Italy in 1933. Ever since then, Bialetti has been synonymous with exquisite espresso.
It has the best of both worlds: an eclectic appeal and a classy, modern feel.
Bialetti design simply cannot go out of style.
The Original Bialetti Moka Express is one of the best espresso-brewing machines out there.
It's reliable, easy to use and it comes from an established brand.
But how does it brew?
Thanks to its eight-sided shape, this stovetop can diffuse heat in a perfect way. In turn, this will do wonders for the coffee aroma.
Within a couple of minutes, you'll be able to enjoy a tasty cup of home-brewed espresso. Nowadays, there are many similar designs on the market, but there's none like the original Bialetti Moka Express.
What else?
The original Bialetti Moka Express can prepare nine espresso cups in one brewing.
And everyone we spoke to seems to agree:
It's amazingly simple to use.
It has a flip-up top and a knob that's easy to grip, so you don't have to worry about any mishaps during preparation.
No burning the hands, because the black plastic handle stays cool. Once the coffee is made, all you have to do is rinse the stovetop – and that's it!
But…There's always a "but".
Although it makes really good espresso, and it's dead simple to use, the original Bialetti Moka Express cannot be washed in a dishwasher.
So, if you want to clean it – you have to do it by hand.
Also, some people have complained it doesn't perform that well on electric stoves – it does a much better job brewing espresso if put above direct flame.
This can be a problem if you're using an electric stove, because it might take a bit more time to heat up.
Here's a quick video user guide for you!
Features
Made of quality polished aluminum
Stay-cool plastic handle
Flip-up top (and easy-to-grip knob)
Works on all stoves