If you're looking for something relatively low-tech that you can easily fold up and fit into a corner of your apartment, the Gazelle Edge might be just what you need.
The majestic Gazelle offers comfortably padded handlebars for a full-body workout, a light but tough durasteel frame, and a rudimentary fitness tracker that monitors your speed, distance, and time.
It's simple enough to use at a slow walk, but sturdy enough to let you reach a full run. So you can feel free to hop on and gt started no matter your fitness level.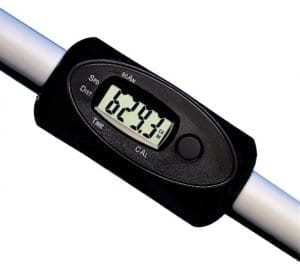 The only catch?
The Gazelle doesn't have any kind of built-in resistance.
One customer we interviewed told us she solved this shortcoming by using bands wrapped around the handles to add tension--a fix other Gazelle users recommended as a simple and cheap way to get the best of both worlds.
We found the warranty outlined in the user manual. On this elliptical, it features a 1 year warranty included with purchase.
Weight & Dimensions: 43 x 28 x 53.8 inches; 42 pounds
Weight capacity: 250 lbs
Stride length: Allows for an over-extended stride
Resistance levels: N/A; bands can be used to provide resistance
Features:
Fitness tracker
Padded handlebars
Good range of motion