Another bristle dartboard option, this time from TG Champion. Like most bristle boards, it's construction is sisal fibers, allowing active healing of holes after removal of the dart.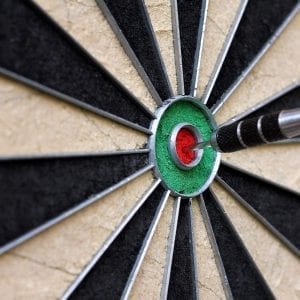 It features a wider frame than some of its competitors, measuring 1.75 inches as opposed to the common 1.5 inches. This will lower the chance of bounce outs.
Unfortunately, one drawback is that the wiring does have staples holding it in, with the exception of the bullseye.
After opening the box, one of the first things we noticed was how clean the board is in appearance. It doesn't have the logo of the manufacturer all over the front of the board. Because of this, it has a very nice, classic and appealing look.
The wiring is rather thin, giving you a higher chance of hitting the target areas, despite the fact it does have staples. In testing, after a few games, we had limited bounce-outs and found the bristles healed as advertised.
The board is very sturdy and is a great option for those looking for an entry level bristle dart board.
Specifications
8 pounds
18 x 18 x 1.75 inches
Bristle dart board
Sisal fibers