If you're looking for a similar design, but without the added breaker bar, the TEKTON 24340 1/2-Inch Drive Click Torque Wrench (25-250 ft.-lb./33.9-338.9 Nm) provides a lot more torque. At the same it features similar overall quality and affordability. Good for working on larger equipment, as well as cars, tractors, and trucks. It's an accurate and powerful tool.
Design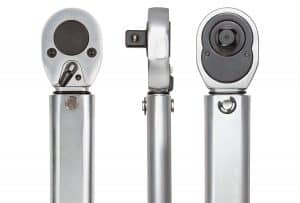 A bit stocky at 25" long, this click type torque wrench features a high contrast handle that allows you to easily see the dual range scale with its Newton and foot pound settings.
Materials
All-steel, this is a model that's certain to provide many years of service. Without any plastic parts or components, it just won't wear out the way lesser models do.
Accuracy
This model arrives calibrated to 4% or better allowing you to easily set to whatever manufacturer's standards your task needs. The easy to read scale has a dual range that locks into whatever setting you require.
Warranty
The traditional TEKTON warranty stands on this product, too. That means the company will repair or replace the tool at any time--even years after initial purchase.
Extras
The torque wrench arrives in a rigid and durable plastic storage case.