If you're looking for the proverbial bang for your buck, the TEKTON 24335 1/2-Inch Drive Click Torque Wrench (10-150 ft.-lb./13.6-203.5 Nm) with TEKTON 15356 1/2-Inch Drive by 24-Inch Breaker Bar is a good choice. Unlike other models, this brings along with it the wrench AND a breaker bar. This is a component that can help to loosen any rusted bolts or nuts. Its design allows optimal flexibility.
Design
A click-type torque wrench, this features an easy to read scale on an easy to grip handle. Adjusts to both Newton and foot pound, and drives in both directions thanks to the reversible ratchet head.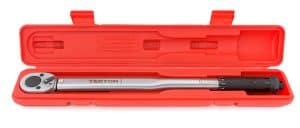 Materials
Both the wrench and breaker bar are made of super durable materials. With high torque chrome and heavy duty steel ensuring years of reliable use. No plastic parts minimizes wear out or breakage. In other words, this all-steel tool is one to count on.
Accuracy
Calibrated to an accuracy of 4% or better, it's a no-nonsense torque wrench that ensures you're getting the right level of torque each time. It is incredibly simple and easy to use with a reversible, ratcheting head and durable breaker bar. It has a 180 degree flex head that lets you get into even the tightest spaces, and a spring-loaded ball bearing prevents it from sticking to work or dropping it when removed.
Warranty
The manufacturer has an impressive warranty they call their "always guaranteed" warranty. What this means is simple – there's no time limit on the guarantee and you can have a tool repaired or replaced at any time.
Extras
This comes in a rigid plastic case that's been designed to withstand years of use. The case holds both the wrench and breaker bar in place while in storage.