When you're looking to go high tech with your electrical measuring device, one of the best multimeters to choose is the TekPower Tp9605BT model. This unit offers USB connection and Smartphone compatibility. Although we should point out, it is only compatible with Android phones.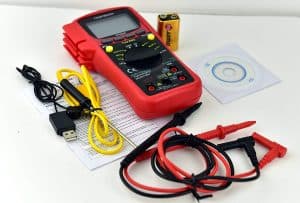 You can easily download results into a .cvs file and share across multiple platforms including email, Facebook, and Twitter. We found that feature helps set it apart from other models; however, not everyone will necessarily need or use it. That being said, it's something to keep in mind if you like high tech gear.
The TekPower TP9605BT allows for true RMS readings. You can measure frequency and voltage as well as display minimum and maximum results. The display is easy to read and has a simple backlit screen.
You'll find this multimeter is ideal for both professional electricians and homeowners alike but may be confusing for individuals that are not tech savvy.
Features
True RMS readings
Intelligent connectivity
Smartphone compatible
USB connection available
Android compatible
Downloadable test results
Measures frequency up to 10Mhz
Max and mini results