The TecTecTec definitely disrupted the market - promising high-quality under a low price tag.
Reviews across the web range from the utmost praising ones to the downright defamatory - and for good reason. There's a lot of things to hate about the TecTecTec, but a lot of things to appreciate as well.
Is this the best rangefinder golf for you?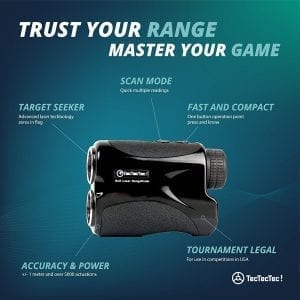 Let's cover the basics.
With this device, you'll get an accuracy of up to 1 yard, with a generic distance range from 5-1000 yards. That's good, especially since this product also features different modes, Pin-Sensor technology, and flag lock-in.
You're covered on all fronts.
What we love about this device…
Is the speed. You get accurate measurements in 1, max 2 seconds, which is really hard to beat metric. Even big names in the industry like Bushnell or Leupold have a hard time competing in this department
We actually put it to the test against the Bushnell V4 and the measurements were on point for both devices, but there were times the TecTecTec came up with numbers faster - especially when measuring the distance to the front edge of the green.
Another thing to praise…
...is the continuous measurement feature. You can pick and store numbers for a myriad of objects, which is a clear edge in competitive matches.
Construction wise…
… This product doesn't boast the highest quality materials, but they're durable enough. You can't expect the highest alloys for every possible product.
What we did like in terms of build is the optics - this rangefinder doesn't feature any magnification, but the lenses are qualitative and long-lasting.
What about things to hate?
First of all - this is a "family-owned business", and although the customer service is delightful right after you purchase the device, you can have a hard time reaching them afterward.
Moreover,
Although your regular TecTec will work just fine, there are a lot of products with malfunctions right out of the factory. You can find many reviews that complain about its accuracy, speed and consistency.
Corroborate that with the lacking customer service and you can end up having a pretty bad experience.
Any other problems to note?
Unfortunately, yes.
If you're living in a place with ever-changing weather, you may want to steer clear of this rangefinder. Most users have reported problems using it in the rain, fog or even on a cloudy day.
We put this to the test and we have to say - measurements are not always consistent if the weather's bad, especially if it's foggy.
If you still think this is the right choice for you, here's a video with the rangefinder in action.
Features
Laser rangefinder
1-yard accuracy error margin
Different Modes
Pin-sensor
Flag lock-in