Guitarists aren't the only ones who can make great use of a loop effect. If you want a loop effect that's specifically designed to work with signals from a mic line, the Ditto Mic from TC Helicon should be on your radar. It doesn't just do vocals—wind instruments and even many percussion instruments sound fantastic looped through this pedal, making it a versatile tool the whole band can have fun with.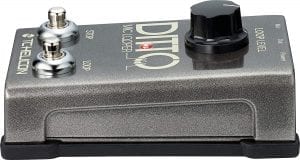 If you're not a guitar player, effect pedals can be intimidating. TC Helicon wisely keeps their Ditto Mic Looper simple. There are two footswitches—one to loop and one to stop—along with a single large dial for controlling the level. The two switches might seem redundant, since many pedals get away with one, but it gives you more precision of where to end the loop. Even if you've never used a pedal before, you'll be able to record and play loops in no time with the Ditto Mic.
The automatic gain control on this pedal might be its best feature, and is certainly one of the things that makes it so versatile. Even if you bump the pedal, there won't be any distortion. The sound quality is high, too, saving all your loops as uncompressed 24-bit audio. It gives the same true to life sound for vocals, horns, drums, or anything else you want to loop through a mic.
This is a very streamlined version of a looper pedal, but for many players that's all the more you need. The Ditto Mic is definitely our top choice for anyone who's looking for a quality loop pedal as a non-guitarist.
Features:
Dimensions: 7" X 6" X 3.5"
Controls: Loop Level
Recording Time: 5 minutes
Power: AC adapter (not included)