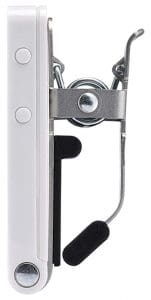 This more compact version of the PolyTune 2 above brings you the same fast and accurate performance but in a convenient clip-on size. It's hands down the most appealing option for a polyphonic tuner in a clip-on form, letting you check the intonation of all your strings at once without adding another pedal to your rack.
Let's break it down:
Like other PolyTune models, this tuner gives you the option of playing in most common alternate tunings and lets you save your tuning settings for easy future reference. There are two modes of operation (chromatic and stroboscopic) that offer up to .02 cents of accuracy.
The LED display is large and bright. The multi-string display can be a bit confusing at first, but it's clear and easy to read once you get used to it. It also senses which way is up and adjusts automatically, meaning left-handed players can just flip it around.
Features:
Tune all six strings at once with the PolyTune Technology
Adaptive display
Multi-orientation clip
Flat and Capo modes
Stainless steel clip