The original PolyTune was the first polyphonic tuner to become widely used, and the PolyTune 2 builds on that tradition. Its main selling point is the fact that it lets you tune all your strings at once. Just strum and the PolyTune will tell you which strings need to be adjusted. This lets you tune more quickly so you can get back to playing.
What's not to love about that?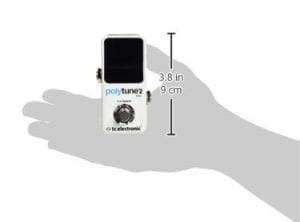 The PolyTune 2 uses an ambient light sensor and adjusts the brightness of the screen accordingly, letting you use it just as well in any environment without any hassle. They also added a strobe mode, which was missing from the PolyTune, giving you more precision so you can fine-tune your guitar.
This also might just be the smartest pedal you'll find for any purpose. Along with the automatic brightness display, it also gives you the MonoPoly option, which instantly recognizes how many strings you're playing and responds accordingly.
It also automatically stores all of your preferences, including what mode you prefer, so you don't have to adjust it again every time you use it. Whether you're looking for speed, accuracy, or easy usability, this pedal does it all.
Features:
Ultra-precise Chromatic Strobe Tuner
PolyTune Technology allows all of the strings to be tuned simultaneously
Hands free adjustment of the LED display brightness