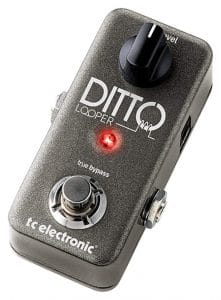 If you like the Ditto X4 but want something just a bit simpler, check out its little brother, the compact and affordable Ditto Looper. It's easy to operate and won't take up too much space in your set-up, making it an easy choice for the gigging guitarist who's just looking to add a loop to their existing array of effects—and wants to do so in the easiest, most affordable way possible.
You'll be most impressed with the sound of this little looper. Any looping material you record is saved as 24-bit, uncompressed audio, maintaining its high quality through storage. It also has an analog dry-through for your tone, as well as true bypass circuitry, so both your dry tone and your loops will have an equally high audio quality.
It doesn't take a lot of controls to make an effective loop pedal, and with the Ditto Looper TC Electronics simplifies the design as much as possible. There's just one single control for changing the loop level and the package is fairly compact, too. Despite this simplicity, it manages to be a pretty versatile effect, equally well-suited for use by guitarists, bassists, or even keyboardists or electric drummers.
If what you want to accomplish is basic overdubbing and simple background loops, the Ditto Looper is exactly as much pedal as you need, without any confusing extras to get in your way. It sounds great and performs well in a variety of different scenarios, and has a compact enough housing to fit comfortably onto pretty much any pedal rack. If you're a pro looking for the simplest solution, the TC Electronic Ditto Looper is an excellent choice.
Features:
Dimensions: 4" X 3.9" X 2.5"
Loop time: 5 minutes
Controls: Loop level
Power: 9V adapter (not included)