TC Electronic makes a wide variety of different effects pedals. You can pretty much find something in their catalog for every effect and any style of player (you'll see their name again before this list is finished).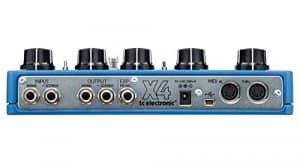 The Flashback is a stompbox specifically designed for professional guitarists to use on-stage. With included loop effects as well as 16 modes of delay, it's maybe the ideal blend of comprehensive effects with easy usability.
The X4 in this pedals name refers to the fact that this is basically four pedals in one. It also has four foot switches, four control knobs, and four slots for TonePrint presets, which you can send to the pedal from any laptop or smartphone.
Basically you can think of this as four times the pedal, and the loop function isn't a throwaway, either. You'll get up to 40 seconds of loop, on an engine that's completely independent of the delay effect.
It's true—this is a lot of pedal.
Its versatility makes it well worth it, though, and despite all the different options it offers it's easy to dial in the perfect sound every time.
Features:
Dimensions: 2.2" X 9.3" X 5.7"
Delay types: Ping Pong, Lofi, Slap, 2290, 2290 with Mod, Dynamic, Reverse, Analog, Analog with Mod, Space, Tube, Tape
Controls: Delay Time, Delay Level, Feedback, looper Level
Power: 9V DC (included)
TonePrints give you emulations of famous guitar effects
Independent engines for the delay and loop effects
Tap tempo feature