TaylorMade is another brand in the same league with Cobra and Callaway or above them depending on where your fandom lies. Our top choice for younger golfers is the Phenom Youth Golf Set, which is nice enough to make adults a little green with envy.
The Phenom golf set comes in two variants with your choice of a 5 or 7-club set. The bag counts as the extra "piece" in the marketing material, but it's actually worthy of counting as one this time around due to the quality. If your little pro is of average height for his age, you'll want to start with the K40 Phenom set.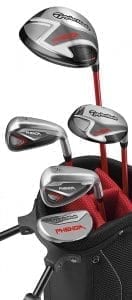 TaylorMade rates the K40 for children ages 5 to 8-years of age. The clubs are all staggered in length with the driver measuring 33.5-inches and the putter at 25-inches. Between those clubs, you'll find a sand wedge, 7-iron and what's referred to as a rescue club.
Wait… What's a Rescue Club?
Whenever you hear this term, which probably won't be very often, it refers to a hybrid. TaylorMade coined this phrase over a decade ago with their first hybrid club, and now other manufacturers call them hybrids or utility clubs. The K40 has a 29.5-inch hybrid wood which is around 5-inch shorter than the rescue club in our next set.
The K50 is rated for children 9-12 years of age and comes with a few extra clubs in the form of a 9-iron and a fairway driver. All the other clubs stay the same and appear to have the same features aside from length and potentially loft. The overall range of this set goes from 29-inches to 39.5-inches from putter to driver.
If you have a little Tiger in training, you may want to start them off with the best… not a cheap set you can pick up a Wally World. You'll get just that with the Phenom, and it's a set that will hold its value at the Pro Shop when it's time to upgrade down the line. We love the fact you can choose an age-range or size, and everything about the Phenom Youth set is of the highest quality from the driver to the bag.
Features
5 or 7-club sets
Graphite Shafts
Rescue club
Uniflex
Right or Left-handed