This classic belt sander carries the industrial look. It's matte black chassis almost makes it look like a heavy-duty excavator. Unlike an excavator, this belt sander from Tacklife is lightweight and easy to use and handle.
Once we took it out of the box, we were stoked to see it came with two screw clamps, allowing us to easily affix it to a table and use it as a sand platform to finish and shape some small projects.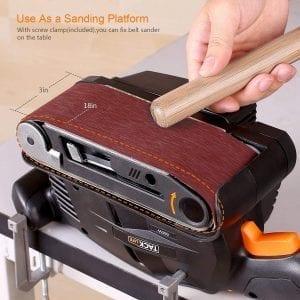 We found the waste to be manageable, with an attached dust box and vacuum adapter provided. The belt rotates fast and was easy to maneuver. Its lightweight construction made the belt sander feel as if it were gliding across the wood surface.
The switch has a handy lock-in position, allowing you to sand without gripping tight over the trigger. We were wary of this mode however and preferred to keep holding the trigger to allow us to remain in complete control of the belt sander.
The Tacklife Belt Sander comes with six-speed settings, allowing you to be more flexible with your usage and operation of the sander. It also has a long 9.8 ft power cable, making it easy to set up with no hazardous tight cables across your workshop.
We found that replacing the sandpaper was nice and easy, with a quick release latch making it as plug and play friendly as possible.
The user manual can be found online.
Specification Sheet
3 x 18 inch
5-Amp motor
14 feet per second
Dust box attachment
Vacuum adapter
Variable speed settings
2 Year Warranty