The T-fal Ultimate Stainless Steel Copper-Bottom Cookware Set contains 13 pieces, making it practical and versatile for everyday cooking.
Users describe this set as effective and heavy-duty, lasting years of use. They praise this cookware for heating up quickly, evenly, and efficiently.
In fact, several people happily report they use heat levels lower than they did in the past for other cookware, and without sacrificing performance.
They love the stainless steel sides and multi-layer base with a copper disc bottom containing and warming ingredients.
Don't flip your lid!
Buyers of the T-fal Ultimate Stainless Steel Copper-Bottom Cookware Set like two things about the lids:
They're made out of glass, so you're able to peek in and check on bubbling ingredients.
And, the vent hole which lets steam escape and prevents liquids from boiling over.
However, many people also wish the fry pans came with lids or that one of the provided lids could fit at least one of the frying pans.
That was a bit of bummer, but still an easy fix as universal lids are easily attained.
We also found many complaints that the hollow handles become hot to the touch. This is common with a lot of professional level cookware, however. Luckily, pan handle sleeves are readily available at affordable prices.
Finally, some users find this cookware easy to clean while some don't at all.
Stickler for detail?
Many consumers wanted to get away from using treated nonstick cooking surfaces and thus turned to the T-fal Ultimate Stainless Steel Copper-Bottom Cookware Set.
This is where it starts getting interesting: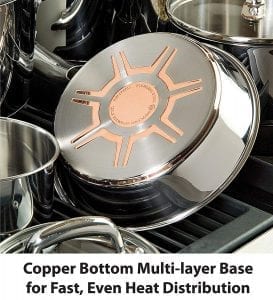 Mostly because we uncovered some conflicting views.
Several reviewers report that if a person takes the time to read and follow directions for nonstick use, there should be no problem.
In other words, if you are willing to prep the stainless steel pans (e.g., heat, oil, and wash them) to make them "non-stick", then great. Otherwise, avoid the hassle and steer clear of buying stainless steel.
Nonetheless, some users report they seasoned pans according to directions and still had issues with sticking food.
Our experts tend to agree with the first reviewer. When properly prepped and used, there were no issues. However, they also noted cooking on non-stick pans has a bit of a learning curve, which can be frustrating at first.
But what about the copper?
Another area of conflict where the negative reviews stood out was the copper bottom.
While the copper was very effective for many, many people were irritated by the ease with which the copper discolors or comes off.
The manufacturer's stickers over the bottom peeled off some copper. For some users, the copper washed off the bottom even after the first wash or within a month or so, leading them to question veracity or thickness of copper used.
And…
The third area of conflict was on stains.
Some reviewers complained of (and even submitted photos of) interior spotting and discoloration of the stainless-steel pots.
Luckily, many others found cleaning the stains with Bar Keeper's Friend very successful and suggest it strongly.
Use and cleaning directions are detailed in the T-fal Ultimate Stainless Steel Copper-Bottom Cookware Set's manual.
Features
Includes 8" frying pan, 10.5" frying pan; 12" covered frying pan; 1-, 2-, and 3-quart sauce pans; and 5-quart covered stew pot
Glass lids with vent holes
Stainless steel body with copper disc bottom
Riveted stainless steel handles
Oven safe up to 500℉
Compatible with induction stoves
Dishwasher safe
PFOA Free
Limited lifetime warranty