You can get chromatic harmonicas that are a bit more budget-friendly. The Chromatix from Suzuki comes in at just over $200 at the time of writing, making it one of the most affordable options for a chromatic harmonica.
The construction quality of this Suzuki model is still high, despite the low price. Music experts construct each instrument, so you can be sure each model they put out has been vetted for consistency and quality. The detail work on the casing is also top-notch, with an ergonomic mouthpiece and a smooth slide. This also prevents any air from leaking through, which enhances both the sound and playability.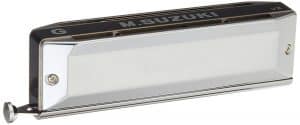 The materials used are where you can tell this harmonica is on the "budget" side of things. Similar to many of the more affordable diatonic models above, the comb is made of ABS plastic, with Phosphor bronze reed plates. This combination of materials gives you a classic blues harp sound but isn't as loud, clear, or easy to bend as other options.
Having said that, this is still a substantial instrument that will feel great in your hands. The reeds are highly responsive to varying degrees of air pressure and have a decent dynamic range. It's also very durable inside and out. While all reeds will wear out eventually from enough play, the pieces of this harp are well-designed and long-lasting and will serve you well for daily playing.
The Suzuki Chromatix is a fine instrument that only ranks as low as it does on the list because it's the right choice for a smaller segment of the population. It's a good option for an advanced hobbyist who wants to experiment with chromatic harmonicas but doesn't want to spend a whole ton of money. It's also a great choice for pros on a budget who need the expanded tonal options a chromatic harp gives you but can't afford something like the Suzuki Sirius.
Features:
Key: G
Tuning: Chromatic
Cover: Chrome Plated
Comb: Plastic
Holes: 12
Reedplates: Bronze