The design of the Sirius was inspired by Suzuki's Fabulous series, created with the aims of excellence in sound and elegance in appearance. There's no doubt the Suzuki Sirius is an excellent harmonica. The question is whether it's tonally superior enough compared to other models to justify the higher price.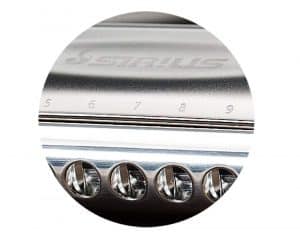 Let's talk about the tone first. It has solid intonation and a fully saturated sound with lots of rich overtones. If you're a professional player and need a harmonica that's appropriate for the studio as well as the stage, this is a definite contender. It has an almost velvety sound when blown gently and has an impressive dynamic range.
The build quality is also at a professional level. The solid brass mouthpiece is coated in silver and feels incredibly natural against your lips. The slide action is smooth, and the casing is durable and attractive. It will likely feel a bit heavier in your hand than you're used to if you're upgrading from a cheaper model, a sign of the higher-end materials used throughout its construction.
The question, then, becomes one of the price. If you plan to use your harmonica for studio recording, the difference in tone compared to something like the Chromatix will be noticeable. For many players, though, there's not enough of a difference in sound and playability to justify the significantly higher cost. If money is no object, you'll be thrilled with the performance of this harp.
Features:
Keys: C
Tuning: Chromatic
Cover: Chrome plated brass
Comb: Plastic with weighted brass
Holes: 16