Superfeet specializes in manufacturing well-designed shoes made from the inside out, at a comfortable price point. So if you're looking for something comfy, affordable, and suitable for casual use, these shoes are a great choice.
Most comfortable shoes put comfort over design and end up looking bulky, but these Superfeet shoes are designed to look amazing. They're sleek and clean, and you can be sure you'll get plenty of compliments while wearing them.
But that's not all: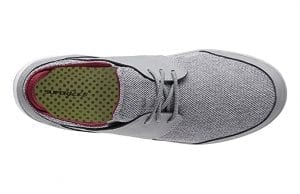 That's because the company didn't compromise the comfort. These shoes provide maximum support for the foot, as well as the whole body, and our inquiries show most users are pleased with them, especially considering the low price. However, we've found they're quite narrow, especially in the middle, so make sure to check the sizing when buying them.
With the mesh toe and upper, you can be sure these shoes are breathable and comfortable, and will keep your feet fresh and healthy. This really comes in handy for people who have problems with foot odor because the breathability will make sure your feet don't bathe in sweat.
Here's where it gets good:
The SUPERCORK insoles in these shoes provide dynamic comfort throughout the length of the foot, and are specially designed to provide protection and support. The EVA midsoles give your feet great cushioning, so you won't have to worry about aching joints or knees.
However, some users find the insoles aren't soft enough, and if you have sensitive feet, we recommend you take a look at the Superfeet Flexmax Athletic Comfort Shoe Insoles. They feature a thick aerospring foam which absorbs impact and provides all-day comfort.
The outsoles are slip resistant, so you can wear these shoes on all types of terrain and in all types of weather, which makes them good as working shoes for a smarter environment.
All in all:
If you're looking for affordable, well-designed, casual shoes which will allow you to spend the whole day on your feet without it being a nightmare, these Superfeet shoes are a great choice.
Features:
Fabric and synthetic
Maximum support for the foot and body
Mesh toe and upper
Superfeet premium insoles
EVA midsole
EVA/Cork insole
Slip resistant outsole