Superfeet is popular for making high-quality comfortable shoes made "from the inside out". So if you're looking for something comfy, affordable, and good for casual use, the Superfeet Fir are a great choice.
The Superfeet Fir Women's shoes are designed to look great and provide comfort, even for people with difficult feet. The design is sleek and clean, so you can be sure you'll get plenty of compliments while wearing them. At the same time, all our experts agreed these provide a high degree of comfort.
But wait: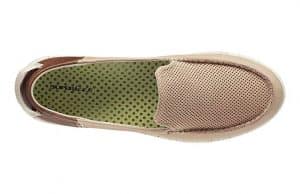 The upper on these shoes is exceptional. It's made with perforated and straight full grain leather, and lined with pigskin, which makes the shoes breathable and comfortable. The webbing at the heel will keep your feet feeling fresh and healthy.
The SUPERCORK premium insole is what sets these shoes apart. It provides dynamic comfort all along the length of the foot. The famous Superfeet design of the insoles is aimed at giving you protection and support.
However,
Some users find the insoles don't give enough arch support, so if you have chronic foot issues, we recommend getting additional insoles like the Superfeet Flexmax Athletic Comfort Shoe Insoles. They feature a thick aerospring foam which absorbs impact and provides all-day comfort.
The EVA/Cork blend midsole in the Superfeet Fir shoes gives your feet great cushioning. It also has a cork strobe to enhance comfort and support. The outsoles are made from synthetic rubber and are slip resistant. This means you can wear the Superfeet Fir shoes on all types of terrain and in all types of weather.
What's the bottom line?
If you're looking for comfortable shoes at a great price, you can be sure that you can spend the whole day in these Superfeet Fir Women's shoes without your feet suffering. But if you decide on getting these shoes, be careful when buying them because our research showed many people had real issues getting the size right. They run a bit larger than expected.
Features:
Leather
Slip-on style
Rubber outsole
Superfeet premium insoles
Leather upper
Cork/EVA midsole
Cork strobe
EVA/Cork insole
Slip-resistant outsole