The Sunmile SM-G73 is a great gadget if you're looking for a compact but powerful meat grinder. With 600 watts of rated power, it can grind all types of meat, fish, and vegetables. The stainless steel body and polished aluminum grinder head are durable and make sure this unit lasts for a long time.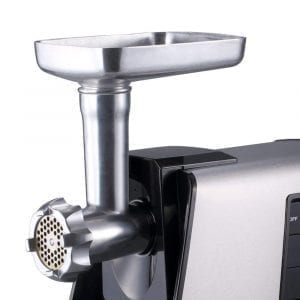 When it comes to safety, there's a circuit breaker which makes sure the motor doesn't overheat, and the ventilation on this unit is decent. It can grind up to 185 pounds of meat in an hour. The three cutting plates that come with the unit allow you to cut your meat into different-sized chunks - fine, medium, and coarse.
Here's where it gets even better:
Operating this unit is extremely simple. There are buttons with four options – on, off, reverse, and reset. It's also very simple to clean – the plates and blades are dishwasher safe, and the unit disassembles quickly and easily. Just make sure you're careful when cleaning the aluminum parts because they're prone to rust if not handled properly.
Also, some users find this grinder to be too loud, but our research showed that the majority are quite content with their purchase.
Features:
Dimensions: 20 x 11.5 x 9 inches
Weight: 12.5 pounds
1000 watts lock power
600 watts rated power
Grinds up to 185 pounds per hour
Stainless steel body
Big tray
Polished cast aluminum grinder head
ELT certified
4 option buttons (on, off, reverse, reset)
Circuit breaker
Good ventilation
Plates and blades dishwasher safe
Comes with 3 plates
Includes 3 sausage funnels and a stuffer