If your budget is tight but you don't want to compromise on recliner quality, the SUNCOO Manual Leisure Recliner Chair is the chair for you!
It exceeds expectations!!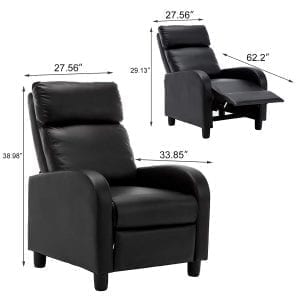 This Suncoo recliner comes with a steel frame to make sure it stays intact throughout the years and has thick foam padding for prime sleeping comfort.
But wait! There's more!
It also has an adjustable head and footrest—great for our tall friends who may need the extra length.
Got Messy Kids?
The SUNCOO Recliner is upholstered with a waterproof, bonded leather material making it spill-proof and super easy to clean!
And the bonded leather material is great for regulating your body temperature while you nap!!
Customers rave about the leather being sleek to the eye and soft to the touch. And it's compact size allows it to fit in smaller spaces.
You might be wondering:
Cheap, attractive, AND sturdy? Are there any downsides at all?
Unfortunately, yes.
After long-term use and over time, the leather material will begin to wear, and the foam padding will start to flatten…
But by the time that happens, you'd have gotten enough use out of it that it will be time to purchase your next napping recliner anyway!
Features
Push-back recline
Dimensions: 33.85" (L) x 27.56" (W) x 29.13" (H)
Back Height: 18"
Seat Dimensions: 18" (W) x 22" (D)
Maximum Capacity: 250 lbs