If you want enough lights to flare a big hall, get Sunco's 16 pack. Or, for a smaller room,  just go for the two pack. With 4000 lumens, LED technology, and a nice temperature of 5000K, this product might be the choice for you.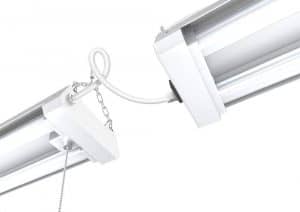 These lights mean business.
The heavy duty 16-pack of 47'' lights is large enough to cover your lighting needs for any project.
The temperature of the light is 5000K which makes a pleasant white light. Their output is 4000 lumens per 40 watts, which translates to 100 lumens for each used watt of energy. This is right on spot for the goldilocks consumption zone.
Bonus points because…
...we discovered that this temperature is the most preferred.
On the downside, however, the installation instructions are pretty unclear, we had quite a hard time setting them up as we wanted. The product marketing clearly states you can flush mount them, but that's not a real possibility.
So what does a hands-on reveal?
We were really excited to try flash mounting the Sunco lamps, so we were pretty disappointed when they arrived because this possibility did not exist. If you're not familiar with the practice, it means setting your lamps as close to the ceiling as possible, even with no space in between.
Unfortunately, you can't do that with the Sunco panels.
Which is a great disappointment.
But that's not to say the product is bad. We really loved the light color and the lumen output is on point for a regular consumption.
We discovered 16 of these beasts installed along with other house appliances can lead to almost a hundred dollars more spent every month on electrical costs. But if you really need 16 of them, this shouldn't surprise you.
Features:
Heavy-duty pack of 16 or a light 2 pack
47'' lamps
5000K white light
4000 lumens output
Consumption of 40W for those lumens