Sun Joe may not be a brand you're familiar with, but they have made a name for themselves in the lawn and garden sector rather quickly. The Sun Joe SWJ803E-CMO is an affordable electric pole saw from the company and one that's been a fan favorite for several years running.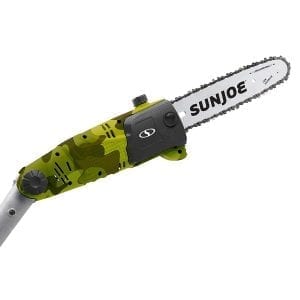 As we said earlier, Oregon is a brand you can trust when it comes to chainsaws. While they don't make this electric pole saw, they are responsible for bar and chain. The latter has a pitch of 3/8," and together they can tear through limbs up to 9-1/2 inches thick. Like all good automatic saws, the lubrication system keeps things oiled and running smoothly, so you only have to check the levels.
Does it leak?
Any chainsaw, weed whacker or lawn mower can leak oil, and while it's certainly possible with this one, it does not seem to be an issue of concern. We can't say the same for the tensioning system however as the user guide shows it as manual, so you'll need to have a tool on hand at all times. Getting the tension set is relatively simple and so is finding the right angle.
One perk of the Sun Joe SWJ803E is its rotating head which can swivel from 0 to 30 degrees. While it doesn't have the same height as a manual or even some cordless options, it's still quite capable with a range of 7.2 to 14 feet. Other features and tech specs of note include a cable clip, safety switch, 2-ounce oil tank and an 8 amp motor with a no-load speed of 6000 RPMs.
While there are a few areas that could use improvement, overall we like this saw from Sun Joe and think you will as well. Their quality isn't on the same tier as an EGO, but it does have a 2-year warranty and a durable plastic shell shields the fragile parts. This pole saw comes with a manual, cutting bar sheath, and a multi-tool with a hex key and screwdriver for tensioning and light maintenance. We chose the Camouflage model, but this saw is also available in Green, Purple, and Red.
Features
8 amp motor
10-inch Oregon bar and chain
Safety switch
Automatic oiler
7.9 pounds