When most people think of storks, they think of babies. Although babies shouldn't sleep in bunk beds (they should sleep in cribs!), the Storkcraft Caribou Bunk Bed is good for young kids. We recommend this model for kids ages six through eight.
Why?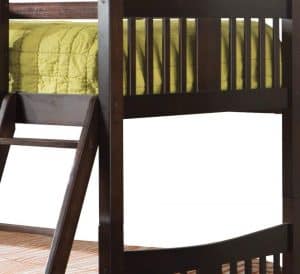 Depending on the child's physical size, the headroom this bed offers can be tight for older kids (age 10 or so) sitting up on the lower bunk.
Nevertheless, the Storkcraft Caribou Bunk Bed is a good buy and exceeds expectations in quality for its price.
First, it's versatile:
It can be separated into two separate twin beds. Also, it's made from environmentally friendly solid rubber, wood, and composites. To most users, the unit is sturdy. A few reviewers, however, think the composites aren't as strong as completely solid wood and don't expect it to last more than a few years.
Another mixed bag
Many people found assembly to be fairly easy, although they advocated for patience and time. Some needed only one hour while others required more (up to five hours). Overall, the process seems to be easier with power tools and two people–although many proud owners boasted they accomplished assembling the Storkcraft Caribou Bunk Bed all by themselves, solo! We noticed a handful of users were unhappy that parts were not labeled, and instructions were unclear.
You be the judge by looking at the unit's manual. Better yet, watch this assembly video. The Storkcraft Caribou Bunk Bed has a limited one-year warranty.
Features
Dimensions: 78.4" x 42.6" x 58.3"
Maximum weight allowance (per bed): 165 pounds
Constructed from environmentally friendly solid rubber, wood, and composites
Can be separated into two twin beds