If the last thing you want is a regulation-size ping pong table taking up precious indoor space, then this STIGA outdoor table might be the solution you've been searching for. After all, what is life without table tennis?
This table features an all-weather aluminum composite top that's capable of withstanding the elements. And when we say all-weather, think about the post office motto: Neither snow, nor rain, nor heat, nor gloom of night. Not that you'd want to play in the rain, but you could. You never know when the mood will strike.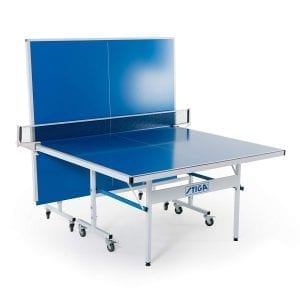 That composite top is perfectly built to resist rust, sun damage, and warping, while still providing extreme playability on a surface that's smooth as can be. Part of that is thanks to a 1.5-inch tubular steel apron, which allows for a nice even bounce.
It comes with 1.25-inch steel legs with levelers, which becomes extremely important on outdoor, uneven surfaces that are rarely perfectly level. The legs provide nice stability thanks to a welded cross brace. And the self-opening and closing feature assures the ultimate in convenience and safety. No need to struggle or worry.
The 3-inch locking wheels make this table easy to move around, as it rolls smoothly and effortlessly across uneven surfaces. It features a lockable ball-bearing design, so the table stays in place while you play.
One of the best things about this STIGA table is the ease of putting it together. It comes 95% preassembled, and features a 10-minute quick play design. So you'll spend less time assembling, and more time playing.
The independent table halves provide supreme versatility, whether for storing, or a number of multi-use possibilities. Think about all the ways you can use two large free-standing and weather resistant outdoor tables.
It comes with a 72-inch outdoor grade net made from premium all-weather material that's capable of withstanding the elements. It also has a string tension adjustment for ease and simplicity. And the threaded clamp attachment system makes it easy to set up and remove when storing.
The table comes with a safety lock system on its underside that locks into an upright position. This means you can safely store your table without worry of it accidentally opening when folded. And how about the fact that when its in an upright position, it's less than two feet deep, meaning you can easily squeeze it into tight spaces in your garage or shed.
And for those of you who want unlimited hours of solo practice, you can easily position it into a playback position.
Specifications at a glance
Play position: W: 60" D: 108" H: 30"
Playback position: W: 60" D: 66" H: 64"
Storage position: W: 60" D: 23" H: 64"
1.25" steel legs with levelers
3" wheels with locks
Features at a glance
10-minute QuickPlay design comes 95% preassembled
All-weather aluminum tabletop
A 72-inch exterior grade net
Independent table halves with independent caster beams
Ultra-compact storage position