Most kids out there are Star Wars fans.
And most Star Wars fans go wookie-poop for lightsabers.
And you'd have a hard time finding a better lightsaber toy than the Black Series Kylo Ren Force FX Deluxe Lightsaber.
This droid-peeler has it all.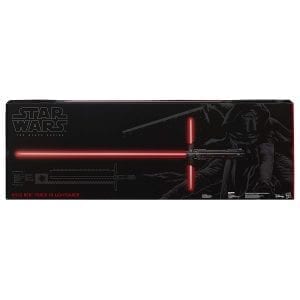 Realistic light effects put you in the world. These tested really well and were our favorite feature. When you fire the saber up, you can watch the blade ignite up the bulb.
And when this battle-ready lightsaber makes contact, there's a flash. This creates a level of super realism that is hard to match in any toy.
Pro tip: these are huge amounts of fun with the lights out or at night.
These lighting effects are compounded by well timed sound effects. When the saber ignites, the unmistakable, official sound from the Star Wars universe plays.
The same goes for during a collision.
Hey, why stop with one?
The collision effects make this a great product to buy two of.
The boy can have a lot of fun staging fights with you or his friends. We really couldn't believe how much fun this was.
What about durability?
I mentioned the importance of durability in the buyers guide.
This is a super durable product, as long as it's used correctly.
The metal hilt is pretty much safe from anything a kid could throw at it and adds another great level of realism to their fun. The lightsaber feels great in your hand.
The flexible wires running up the side do take away from the flexibility a little bit, but also add to the realism of this toy lightsaber.
The plastic saber and bulb are a little more prone to damage or bending. However, you're usually safe for light contact.
This model is a bit more tapered than other lightsaber models which seems to add a bit of extra strength to the construction.
Here is the only downside:
A light sabers could potentially be a pretty redundant gift. If the boy you know is a Star Wars fan, he probably already has a favorite lightsaber lying around.
So you may want to double check with parents before making this purchase.
If that's the case but you'd still like to get a Star Wars related toy, the Star Wars Force Band controlled BB-8 or remote controlled Millennium Falcon quadcopter are both awesome options.
There have been a ton of both of these around lately and kids seem to love having their own BB-8 or Millenium Falcon to adventure with.
And a couple other things...
This is a toy that does a lot of things right regarding longevity.
It can be great for staging lightsaber battles with other kids. In addition, it's packed full of features. The realism of the construction also means that it's something they will enjoy as they get older.
This lightsaber also comes with a clear plastic stand. This stand can be used two ways, either resting on top or balancing through a hole.
No warranty information was available for this product, but we contacted the seller and will update this article when we know more.
Features
Light effects
Sound effects
Metal hilt