Just like the Stamina Compact Strider, the Stamina In-Motion Elliptical Trainer is a versatile little machine that offers a ton of flexibility. It works well for sitting or standing, it comes in a variety of colors, and it's extremely portable.
The electronic fitness monitor gives you a ton of info on your progress, including your strides per minute, calories burned, and your total exercise time.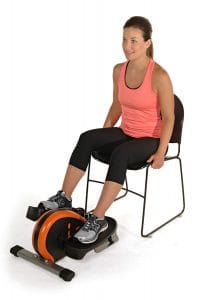 Want to kick things up a notch?
The Stamina In-Motion Elliptical lets you adjust the tension to your liking just by turning a knob, so you can go hard — or not.
Plus, you can switch it up a little by pedaling backwards and targeting muscle groups that the typical forward motion neglects.
So why did we rate this one lower than its buddy?
The main reason for the drop in rating is that the Stamina In-Motion Elliptical doesn't come with handlebars, and we found it could be a bit tougher to balance on when used while standing.
It's great as an under-the-desk elliptical machine to help you stay fit at work (or on the couch).
Still, if you want to use it while standing and you have any sort of concern about your balance, you may not want to go with this particular model.
Unless you enjoy toppling over.
But we don't recommend that.
According to the user manual, you'll get a 1-year warranty for the frame and 90 days for parts.
Weight & Dimensions: 24.5 x 17 x 11.38 in; 30 pounds
Weight capacity: 250 pounds
Stride length: Not really applicable – because it's so compact, it's more like a stepper.
Resistance: Magnetic resistance provided by an adjustable tension knob
Features:
Can be pedaled in reverse to work different muscles
Comes in different colors
Very portable
Adjustable tension