Squier is to Fender as Epiphone is to Gibson: the low-cost equivalent that gives you the quality the brand is known for without the high price tag. This one is designed to mimic the look and vibe of the classic "blackguard" Telecasters from the '50s. It's a great way to get vintage styling with all the convenience of modern electronics.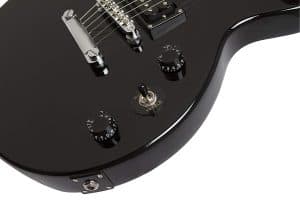 Most entry-level guitars use medium frets, but the frets on the Squier '50s Telecaster are a bit larger. This is great for genres like rock and country that call for bends and other effects. The neck is one of the places you can really see the blending of vintage and modern in this instrument. It has a classic 21-fret tint gloss look but an updated 9.5" radius that makes it a lot faster to play than old-school Telecasters.
What made us really love this one:
Tone-wise, you'll love this instrument's powerful response and front-end bite. The pine used for the body resonates similarly to the ash traditionally used for Telecaster, with a sound that harkens back to early Esquire instruments that used similar tonewoods.
The single-coil Alnico 5 pickups are really what gives the instrument its distinctive Telecaster sound, however. You'll get impressive clarity and definition on every note, regardless of how much distortion you like to play with.
Telecasters are seen most often in pop and rock, but this guitar isn't limited to any one genre. It strikes a great balance between mid-range depth and high-end sparkle and has enough tonal flexibility that you can play pretty much anything you have a mind to—and have it sound great.
Features:
Weight: 14 pounds
Scale length: 25.5"
Frets: 21 medium-jumbo
Tonewoods: Pine body, maple neck
Body shape: Single cutaway
Neck shape: 9.5" 1-piece modern "C" shape
Hardware: Vintage-style chrome tuners, brass string-thru bridge with barrel saddles
Pickups: Custom Telecaster Alnico 5 (single-coil)
Color options: Vintage blonde, Butterscotch blonde, Natural, 3-color sunburst