This is one of those toys that makes you say, "Wow, I wish they had that when I was a kid."
This robotic, remote control dinosaur is meant to give kids the feeling that it's actually alive.
Pull its tail and watch him get angry. Or train him to dance and do tricks.
He can even chase you.
There are layers to the fun.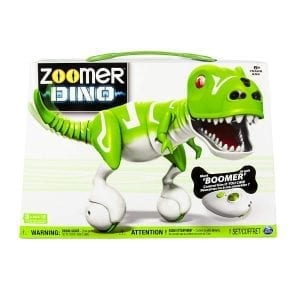 Part of the fun with this product is in having and RC t-rex. The other part is in taming your new pet. He'll respond better over time and get to know how you behave.
If you pet him, he'll be loving and enjoy touch. But you'll need to train him with hand motions first.
Eventually, he'll respond to commands and be a new best friend. They'll need to watch his mood to see how he's feeling, though. We loved that his eyes change colors with his mood, for instance.
This is an awesome product for teaching children to take care of animals or be responsible.
Where'd he go?
Zoomer Dino will roam around your home and explore, if you let him.
He uses True Balance technology to make sure that he is always upright.
This toy has a ton of features, and can even function idly just to add to other activities. He can follow you around and grows to know you better. Kids love that type of thing, so you can expect a good play-life from this toy.
No warranty information was available on this toy.
Features
Emotive, lifelike behaviors
Motion sensors
Responsive
Remote control