Some kids are more sporty than nerdy, though. For these kids, Bestazy recommends this great new ball game.
It's called spike ball, and it's appropriately named. The game is played by spiking a ball onto a small net surrounded by four people.
The gist of it is: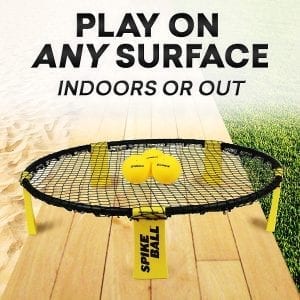 As the ball bounces off, a player must return the ball. Players continue spiking the ball until someone messes up.
It's a lot of fun in practice. Whoever thought of this sure did know how to make a game.
They took the best part of many ball games--spiking--and turned it into a sport in itself.
This is a super fun and competitive game to take to the beach, cookout, or tailgate. Or, just throw it up in the backyard anytime you want.
It's always a good time to get kids active and outdoors, after all.
Can a seven-year-old play it?
This might not be something they master of right away. It requires some skill and coordination to make it fun.
To make it easier, inflate the balls a little extra so they don't have to swing as hard.
Regardless, it's a great gift that will help them grow and develop.
Putting it together and taking it apart between uses or to move it will probably require adult supervision at first. It comes in eleven different pieces.
An adult will have an easy time setting it up, however. And being able to take it apart is great for portability and storage.
What else is included?
When you order this, you'll be getting a couple extras.
Firstly, you'll get the frame and net, of course. But you'll also get a great tote for carrying it as well as two extra balls.
And he can't destroy it.
It appears to be built very well and from sound construction materials. And even if he can, the warranty is outstanding.
This product comes with a lifetime manufacturer's warranty. If you send them a picture of a damaged part they will send you the new part free of charge.
Long live Spike Ball.
Spikeball is awesome because it isn't something you could get tired of. you'll continue growing and developing as long as you play it.
Believe it or not…
There are even semi-professional leagues forming. This, on top of the fact it's made for four people means they'll never get tired of it.
Features
Three balls included
Bag included
Lifetime warranty