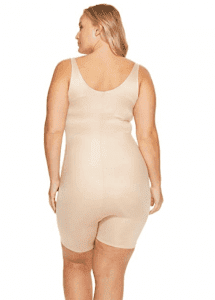 SPANX is a brand well-known among women, and with good reason. This Power Conceal-Her model features double-layered fabric, where one layer provides shaping and the other smoothing of your curves. It has stretchy straps, but since it's an open bust suit, you can combine it with any type of bra. That's how you can create both lovely day outfits and more daring night combinations.
But there's more:
Our research has shown that women love this shapewear because it fits very well and it provides good results. Its non-binding finish makes the suit disappear under your pants or dress. Because of its lightweight design, it's comfortable and easy to wear. You don't even have to undress when you need to go to the bathroom, which is a relief for so many ladies who tried it.
For some ladies, however, this model can be too tight, so make sure you check its size twice before you order it.
Features
Double-layered fabric
Open bust
With straps
Non-binding finish
Double gusset opening