If you thought we were done with Spalding balls, you were wrong. Here's another one we just HAD to include in our list. And you'll see why.
It's no surprise Spalding balls are generally of higher quality than most, and this TF-1000 Legacy ball is no different. Now, we did find that the TF-1000 is not for everyone; it's more suited for people with a certain type of game, specifically women.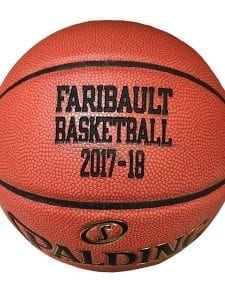 More on that below…
First, let's talk about what this baby is made of. It features an intricate channel design, a butyl rubber bladder, and nylon windings.
That might look like a lot of words, but here's what it really means. The deep channel design is excellent for shooters, whereas the Butyl rubber improves air retention.
Moreover, it comes in size 6 (28.5"), which is slightly smaller than the official size 7, but perfect for most women!
Some drawbacks to consider:
This ball is great, but it's not perfect. First of all, it's slightly more expensive than other balls, like the Baden Elite.
Plus, our reviews showed this ball starts to lose its quality over time, which doesn't make it ideal for long-term use.
We found chances of the skin wearing off and the ball starting to slip after prolonged use. Sadly, this pretty much defeats the purpose of the ball i.e. close control and grip.
Features:
ZK Microfiber composite leather cover
85% Butyl rubber bladder
100% Nylon windings
Deep channel design
Assorted special league/school markings