The Spalding Precision basketball is the runner-up on our list for good reason. The manufacturer is one of the best in the industry and this ball is proof of that.
Let's look at some of the features and find out if this is the right ball for you!
You're going to love this one…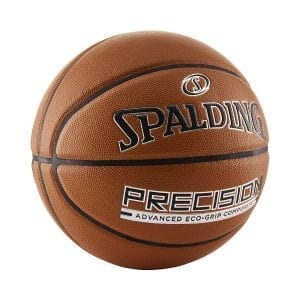 First of all, the Spalding Precision is NFHS-approved and comes in two sizes: the official size 7 (29.5") and the intermediate size 6 (28.5").
It features an Eco-Grip composite cover that promises a game-ready, superior grip and a soft and comfortable feel.
You'll be pleased to know the windings of the ball give it an edge over its competitors when it comes to durability. Yep. You can expect the overall life of your ball to be pretty great!
Note: We found these balls performed best on wooden floors. Concrete floors? Not so much.
We aren't done yet!
This basketball also has a deep channel design and a Butyl bladder; a feature common to all the Spalding balls we've included in this review!
The best part? Our reviews showed this ball didn't lose its quality over time; it was in great shape even after a number of games. It didn't lose its grip over time and stayed bouncy as ever!
But, here's the deal…
Spalding has put in a lot of work trying to get these eco-grip balls to feel like real leather. That doesn't mean the ball doesn't have any haters. There are still a bunch of people who believe these balls don't even come close to those made of genuine leather.
Features:
NFHS-approved
Eco-Grip composite cover
Butyl bladder for air retention
Deep channel design
Responsive cushioned sponge carcass