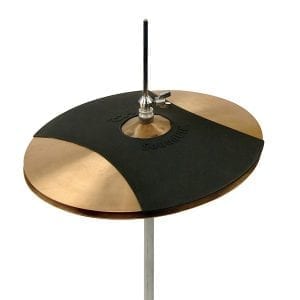 Here's another gift that's just as much for the people who live with the drummer as it is for the person who actually plays. It's a revolutionary drum mute system for any fusion-sized kit that lets the player use their actual drums for at-home practice without making all the noise you'd expect from a drum kit.
There are several components in this mute kit, sized to fit the various drums on your kit. This includes options for toms between 10" and 14", a 14" snare mute, three different cymbal mutes, and a bass drum mute that can be adjusted to fit any size head from 18" to 26". This array of different pieces should be plenty for at least basic practice on any kit configuration.
Figuring out how to put these mutes onto a drum kit can be tricky at first. They're probably a better choice for a drummer who's at least an older teen, with some experience on the instrument, than they are for a beginner, who'll have just as much luck honing their technique on a practice pad. They'd be easier to use if they were one size fits all, but even as-is an experienced player shouldn't have any difficulty fitting them onto the drums.
Putting these mutes on a drum will change the output, and not simply in regards to the volume level; drums with these mutes on them will also have a muffled sound. What won't change, though, is the feel of the drum. It will still have a realistic strike and rebound so the drummer can work on all elements of their technique and have it feel completely natural.
This kit is convenient if the player is muting an entire drum set, since it gives you all the pieces you're likely to need, but Evans also sells individual mutes individually. No one's likely to need more drum head mutes than come with this kit, but if the player has odd-sized drums or a plethora of cymbals, being able to expand the set piece by piece will be helpful.
Features:
Drum head mutes: 10", 12", 14"X2 (snare and tom)
Cymbal mutes: SO-CYM mute, 14" hi-hat mute, 20" ride mute
Kick drum mute size: adjustable (18"-26")
Material: durable synthetic