The SoundAsleep CloudNine Series Queen Air Mattress is great for temporary everyday use, which we heard from students and recent movers waiting for a new bed.
This model is "very comfortable" and good for people with bad pain as well as a user's "elderly parents." A self-described "200-pound old man with a bad back" endorses it. A 300-pound sleeper uses it without experiencing any bulging in the sides, dips in the middle, or drops in firmness during the night.
Listen to this!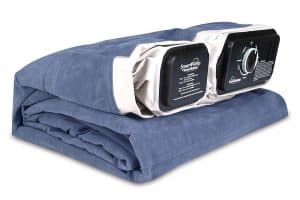 This dual-system provides constant comfort. First, a primary pump inflates the mattress. Then a smart auxiliary pump helps keep the SoundAsleep CloudNine Series Queen Air Mattress from becoming "mushy" and maintains a user-chosen level of firmness.
How?
The mattress' smart pump monitors and maintains air pressure. When needed, it automatically turns on to reach the desired inflation level and then shuts off. Simply inflate the mattress, select one of three firmness levels, and keep it plugged in while sleeping. Users overwhelmingly love this feature. The smart pump hums quietly but is still loud enough to wake light sleepers, which bothers some people.
The primary pump inflates and deflates the SoundAsleep CloudNine Series Queen Air Mattress in four minutes. Set up and take down is "super easy." Just turn the dial to inflate or deflate–"set it and forget it." The mattress is heavy and bulky for moving.
The good news
This model's durability seems very favorable. One person slept on it every night for five weeks without problems. Another snoozed on it nightly for two years without issues. Two users woke up on the floor soon after purchasing it, while a few found leaks at the seam near the motor. Nonetheless, many people praise this model's sturdiness.
The bad news
Consumers complain the SoundAsleep CloudNine Series Queen Air Mattress isn't truly queen size. Advertised as 78" x 58" x 19" by the manufacturer, the blue top of the mattress only measures 74" x 54" and the side bulges out to 77" X 57." Since a standard queen size mattress is 80" x 60," this mattress falls short.
On the bright side, the manufacturer offers excellent customer service in replacing defective mattresses.
Watch this detailed review by The Sleep Judge.
Features
Dimensions: 78" x 58" x 19"
Dual-pump system
Includes carrying bag
Limited one-year warranty